stagionale di fito-ostilità
quadrimestrale che guarda il mondo con gli occhi delle piante e di chi non ha via di scampo
phyto-hostility seasonal
quarterly that sees the world from plants' eye view and everyone else's with no way out
"Were you drunk when you seemed so hopeful before? Have you gone to sleep and woken up green and pale in fear of this idea? From now on this is what I'll think of your love. Are you afraid to act the way you desire? Will you take the crown you want so badly, or will you live as a coward, always saying "I can't" after you say "I want to"? [...] "
" [...] I dare to do only what is proper for a man to do. He who dares to do more is not a man at all."
W. Shakespeare Macbeth Act 1, Scene 7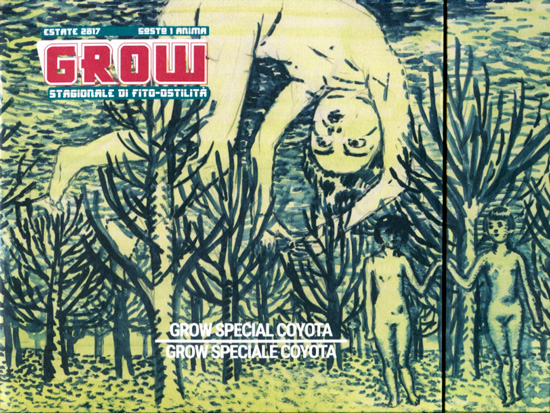 Authors:
ALKBAZZ/GARAGE L (FR), IVANA ARMANINI (HR), AMANDA BAEZA (CL/PT), BAMBI KRAMER (IT), JULIETTE BENSIMON MARCHINA (FR/BE), VALERIO BINDI (IT), CAROLA BONFILI (IT), RENEE M. BORGES (IN), NELE BRӦNNER (DE), TONY CHEUNG (CN), LAURA CINGOLANI (IT), SRITA COBRA (MX), INÉS ESTRADA (MX) aka INECHI, MARINA GIRARDI (IT), JEAN GUICHON (BE), HURRICANE (IT), JOE FURLONG (UK) aka JOEFUR, MARTIN LÓPEZ LAM (CL), PATRICE MARCHAND/HSH (FR), GIULIA MENICUCCI (IT), TAYLOR MCKIMENS (US), BILL NOIR (BE), LAURA NOMISAKE (IT), PADIY (IT), CHLOÉ POIZAT (FR), RADOVAN POPOVIĆ (RS) aka RASHID, ANTONIA SANTOLAYA (ES), ROBERTA SCOMPARSA (IT), SONNO (IT), MALINA SULIMAN (AF), AGNESE TROCCHI (IT), TARACE (FR), ANNALISA TRAPANI (IT), UOLVE (IT), MARTHA VERSCHAFFEL (BE), ALEKSANDRA WALISZEWSKA (PL), WOSTOK / SANJA S. (RS), GIUSEPPE ZEMA (IT).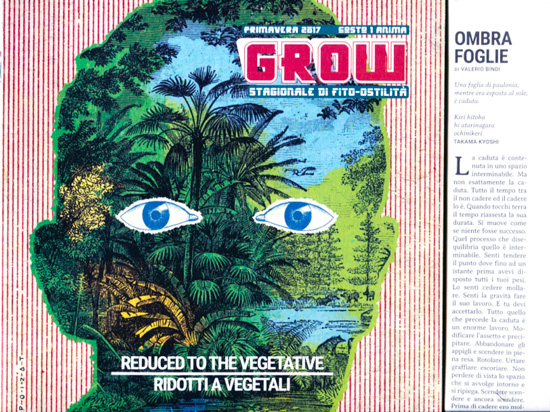 Come ottenere il libro
Per ricevere GROW via posta puoi scrivere una mail a fortepressa@gmail.com con tutte le indicazioni utili a spedirtelo. Il prezzo come tutte le produzioni Fortepressa è assente. Si consiglia piuttosto una donazione alla nostra Associazione: la scelta di donare è un concreto contributo al nostro lavoro, una partecipazione importante al nostro percorso.
How to get it
To receive Grow by post, you can e-mail fortepressa@gmail.com giving all the infos required for the shipment. Everything in Fortepressa's production has no price: it is rather a donation to our Association: the choice to donate is a concrete contribution to our work, an important part of our process.



La donazione è libera, ma ti consigliamo una donazione minima di 13€ (7€ per il libro + 4,90€ di sped. postale per spedizioni in Italia) e una massima di 18€.
Donation is voluntary and open, we suggest a minimum of 13€ (7€ plus 4,90€ shipping for Italian destinations) and a maximum of 18€.