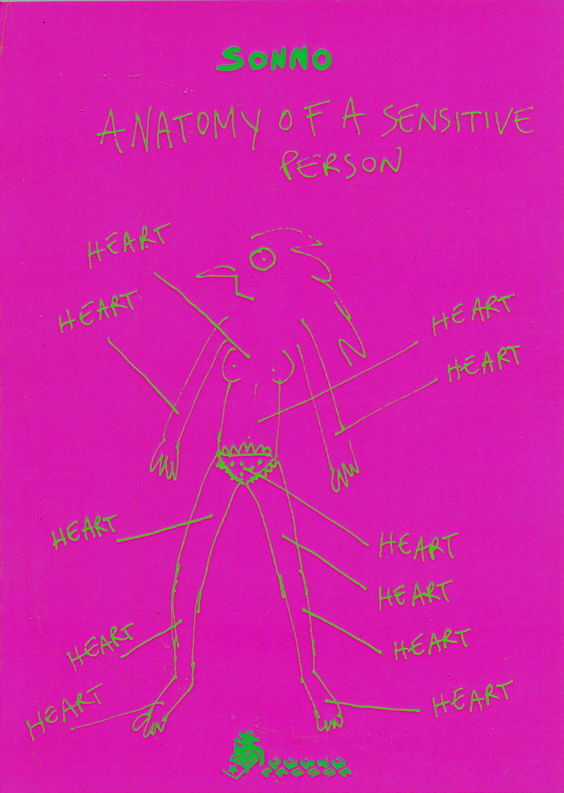 ANATOMY OF A SENSITIVE PERSON
di SONNO 116 pag, B/N, brossura, 12×17, italiano
I edizione giugno 2019
ISBN 978-88-94-35603-8
(cc) Sonno
(cc) ed Fortepressa – La Bagarre Ass

cover: Sonno
design: Valerio Bindi e Michela Rossi
Una selezione dell'ampia produzione di fumetti e vignette satiriche di Sonno, il più giovane fra gli autori del progetto collettivo La Rabbia. Qui parla ride e fa poesia senza rete, solo esponendosi come persona sensibile.
Come ottenere il libro
Per ricevere Anatomy of a Sensitive Person via posta puoi scrivere una mail a fortepressa@gmail.com con tutte le indicazioni utili a spedirtelo. Il prezzo come tutte le produzioni Fortepressa è assente. Si consiglia piuttosto una donazione alla nostra Associazione: la scelta di donare è un concreto contributo al nostro lavoro, una partecipazione importante al nostro percorso.



La donazione è libera, ma ti consigliamo una donazione minima di 17€ (12€ per il libro + 4,90€ di sped. postale per spedizioni tracciate in Italia, è possibile anche spedizione come piego di libri per 2,00€ ma non si prevede rimborso in caso il libro sia disperso). Donazioni maggiori saranno benvenute!