di BAMBI KRAMER 28 pagine, 4 colori + 1 pantone, libro poster nn rilegato inserito in custodia rigida, 33 x 44 cm
rilasciato con Licenza Creative Commons [ CC BY – NC – SA 3.0] I edizione novembre 2014
ISBN 978-88-9050-697-0
edizione firmata e limitata di 350 copie pubblicata da FortePressa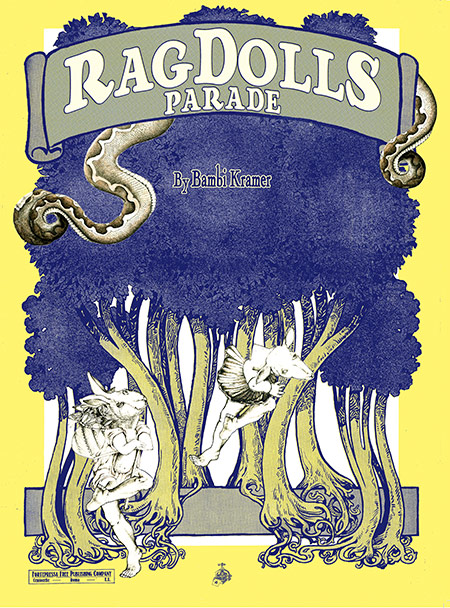 cover: Bambi Kramer
dwg: Bambi Kramer
music sheets: F. Henry Klickmann, Geo W. Fairman, Tell Taylor
design: Valerio Bindi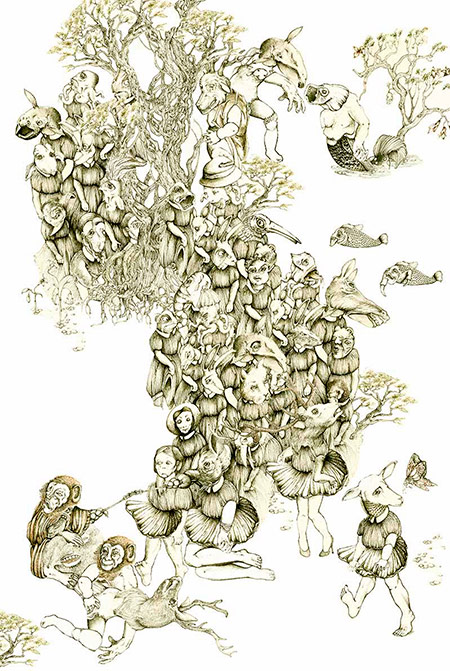 Le RAGDOLLS sono creature composite, fatte di scampoli, scarti, frammenti che sembrano muoversi mentre si scompongono, ruotano e assemblano nuovamente. C'è poi un'isola, una storia d'amore e un crudele Dottore della Peste determinato a raccogliere sotto di sè la molteplicità sfuggente di queste creature ibride, costringendole in un ordine 'striato' come una prigione. Spartiti originali d'inizio '900, accompagnano questa sfilata di chimere a tempo di Rag.
RAGDOLLS PARADE è un libro che arriva alla fine di un percorso durato più di un anno, iniziato in Colombia con una performance teatrale, e a seguire un rotolo disegnato lungo sei metri che la illustrasse. RAGDOLLS PARADE è frutto di un processo che dalla continuità fluida del rotolo estrae come un nuovo Victor Frankenstein occhi, braccia, corpi, li isola e li trasforma in elementi modulari, dalle cui riproducibilità e combinazioni nascono creature, movimenti e storie fino ad allora nascosti. Un lavoro di detournement e cut-up che sposta e inserisce elementi nuovi in strutture antiche "al-ready made", rendendo il libro stesso una ragdoll, con pagine ed immagini danzanti al suono della propria musica.
Come ottenere il libro
per ricevere Ragdolls Parade via posta puoi scrivere una mail a fortepressa@gmail.com con tutte le indicazioni utili a spedirtelo. Il prezzo come tutte le produzioni Fortepressa è assente. Si consiglia piuttosto una donazione alla nostra Associazione: la scelta di donare è un concreto contributo al nostro lavoro, una partecipazione importante al nostro percorso.



La donazione è libera, ma ti consigliamo una donazione minima di 25€ (20€ per il libro + 4,90€ di sped. postale per spedizioni in Italia) e una massima di 40€.
Donation is voluntary and open, we suggest a minimum of 25€ (20€ plus 4,90€ shipping for Italian destinations) and a maximum of 40€.