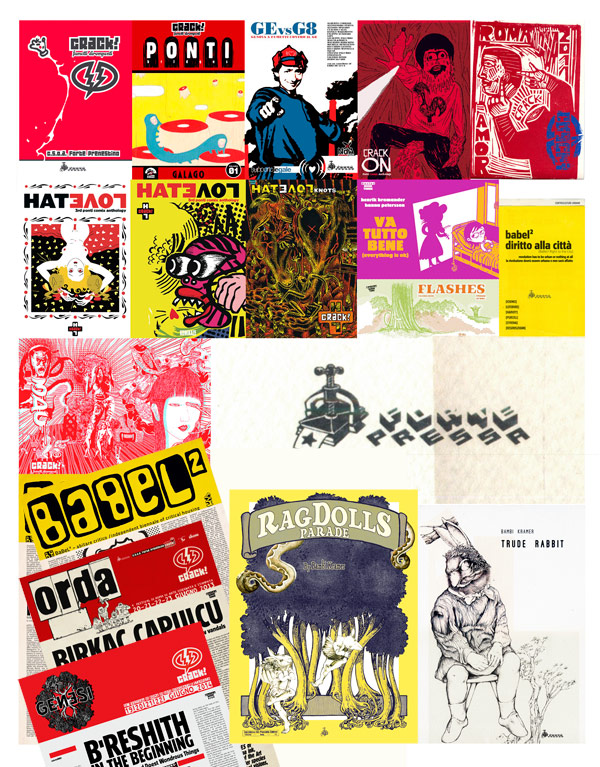 It's called Crack! Fumetti Dirompenti, the independent Festival of comics and drawn and printed art. hosted and entirely produced by Forteprenestino in Rome. This year it will reach its tenth edition, the event is this totally network-oriented festival. Crack! is not a showcase or an extension of the art market, in order to become familiar with it you must totally experience it. And this experience is shared by authors, editors, groups and cultural production centres that exchange methods, stories and pictures together. Every year 10.000 visitors come to Crack! walking through the underground passages of the Forte searching for a glimpse of the contemporary.
Deep in the soul of Crack! is born a phantom publishing label, called Fortepressa, the Forteprenestino pirate press. The whole production of Fortepressa is in a very limited edition and refuses any other distribution that the one that crosses the independent festivals network. Fortepressa already boasts about a dozen titles, all multilingual productions that cross Europe and the artistic productions around its borders, a project that is completely licensed under a Creative Commons statement.

Si chiama Crack! Fumetti Dirompenti, il festival indipendente di fumetto e arte disegnata e stampata, ospitato e prodotto interamente dal Forte Prenestino di Roma, giunto alla sua undicesima edizione, Crack! è una kermesse dall'anima totalmente orientata al networking. Crack! non è una vetrina o una estensione del mercato dell'arte, per conoscerlo va vissuto. E a viverlo sono, infatti, autori, editori, collettivi e centri di produzione culturale che si scambiano metodi, narrazioni e immagini. Crack! accoglie ogni anno 10.000 persone attraversano il Forte e i suoi sotterranei alla ricerca di uno sguardo sulla contemporaneità.
È nell'anima di Crack! che nasce un marchio editoriale fantasma, Fortepressa, la stamperia pirata del Forteprenestino. Una produzione che sfugge la distribuzione e il rapporto obbligato con il prezzo. Tutto quello che Fortepressa produce è in tiratura limitatissima e non distribuita in nessun altro modo che nei banchetti dei festival che della rete indipendente di Crack!. Sono già all'attivo una decina di titoli, tutte produzioni multilingua, che attraversano l'Europa e le produzioni artistiche ai suoi confini. Un progetto interamente in regime di creative commons, opere aperte alla diffusione e riproduzione e contro il copyright.
Save