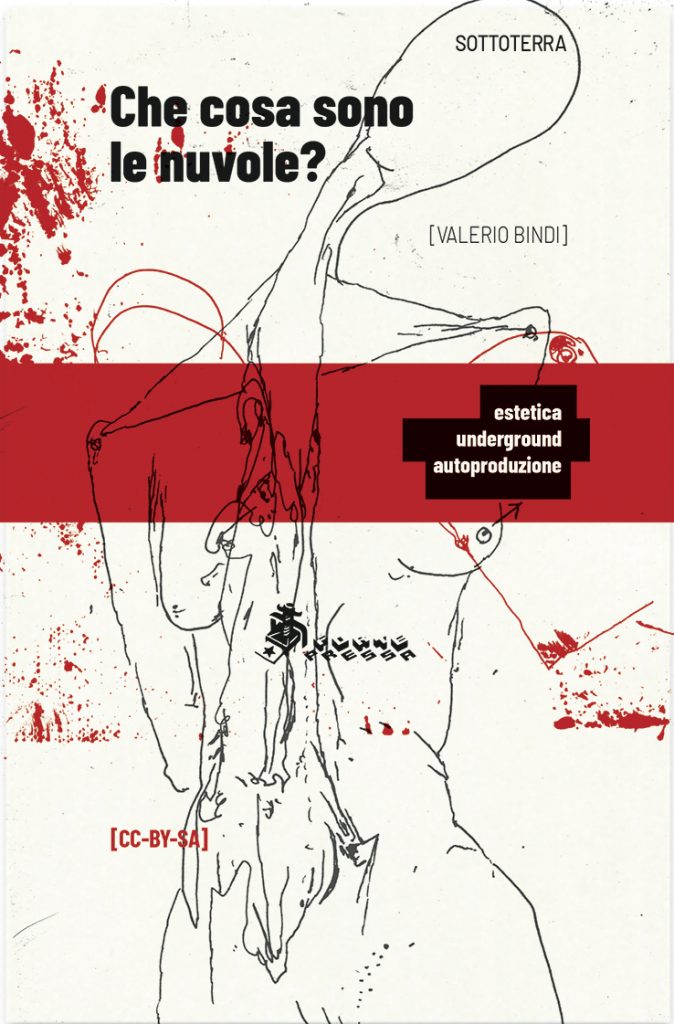 WHAT ARE THE CLOUDS? underground aesthetics autonomous production
by VALERIO BINDI
48 pages, two colors, paperback, 12.4 × 19, Italian
series Sottoterra
I edition October 2019
ISBN 978-88-94-35606-9
(cc) Valerio Bindi
(cc) Fortepressa – La Bagarre Ass
cover: Aleksandar Opačić
design: Valerio Bindi
The spectacle of deformation, transformation, the weird, combined with nomadic essences and irregular bodies, more or less voluntarily modified and impregnable. Beauty divided into panels in a comic is to be found exactly where it seems not to be at first sight. It is, as in the Torso, in the disjointed stumps, in the misty, crooked and doubtful visions where the data collected does not serve to produce 'beautiful figures', but comics that are irreducible to the words they carry and the images they narrate.
How to get the book
To receive Che cosa sono le nuvole? by post, you can e-mail fortepressa@gmail.com giving all the infos required for the shipment. Everything in Fortepressa's production has no price: it is rather a donation to our Association: the choice to donate is a concrete contribution to our work, an important part of our process.

Donation is voluntary and open, we suggest a minimum of ca 17€ (12€ plus 4,90€ traced shipping for Italian destinations, is also possible a 2,00€ mailing with no refunding in case of loss). Any greater donation will be welcome!
You may as well read the book online here: https://fortepressa.net/valerio-bindi/aisthesis-estetica-underground-e-auto-produzione/
[:it]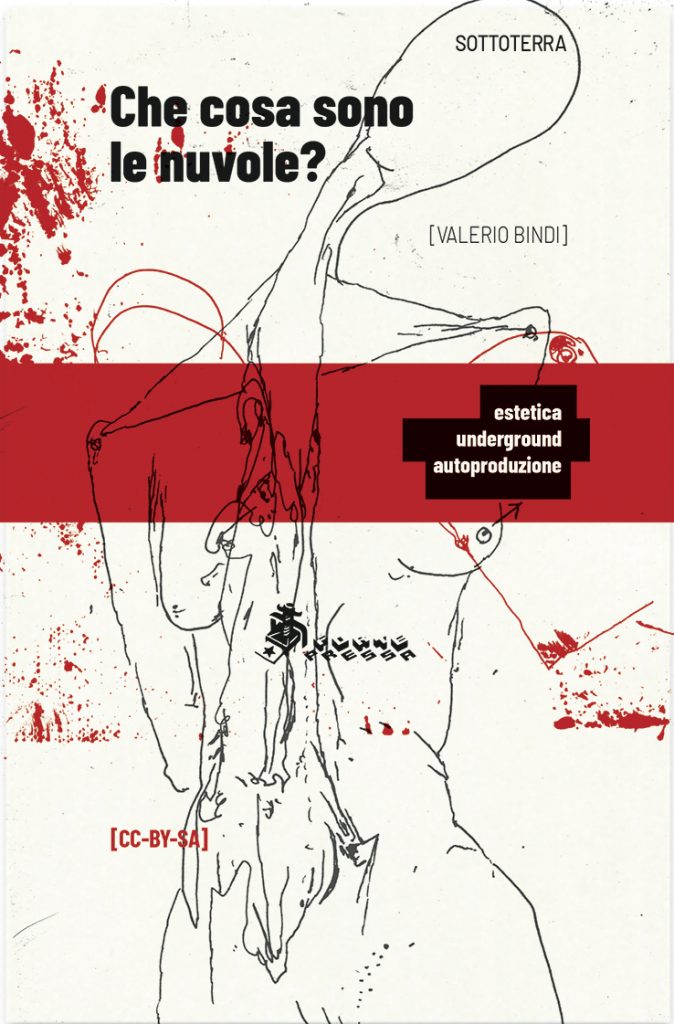 CHE COSA SONO LE NUVOLE? estetica underground autoproduzione
di VALERIO BINDI
48 pag, due colori, brossura, 12,4×19, italiano
collana Sottoterra
I edizione ottobre 2019
ISBN 978-88-94-35606-9
(cc) Valerio Bindi
(cc) ed Fortepressa – La Bagarre Ass prima edizione giugno 2010
ISBN 978-88-9050-692-5
edizione limitata di 500 copie
cover: Aleksandar Opačić
design: Valerio Bindi
Lo spettacolo della deformazione, della trasformazione, dello straniante, combinato con l'essenza nomade ed i corpi irregolari, più o meno volontariamente modificati e inespugnabili. La bellezza divisa in quadri di un fumetto va cercata proprio dove a prima vista sembra non essere. Sta, come nel Torso, nei monconi disarticolati, nelle visioni nebbiose, storte e dubitative dove i dati raccolti non servono a produrre 'belle figure', ma fumetti irriducibili alle parole che portano e alle immagini che narrano.
Come ottenere il libro
Per ricevere Che cosa sono le nuvole? via posta puoi scrivere una mail a fortepressa@gmail.com con tutte le indicazioni utili a spedirtelo. Il prezzo come tutte le produzioni Fortepressa è assente. Si consiglia piuttosto una donazione alla nostra Associazione: la scelta di donare è un concreto contributo al nostro lavoro, una partecipazione importante al nostro percorso.

La donazione è libera, ma ti consigliamo una donazione minima intorno a 17€ (12€ per il libro + 4,90€ di sped. postale per spedizioni tracciate in Italia, è possibile anche spedizione come piego di libri per 2,00€ ma non si prevede rimborso in caso il libro sia disperso). Donazioni maggiori saranno benvenute!
Si può leggere il libro online a questo indirizzo: https://fortepressa.net/valerio-bindi/aisthesis-estetica-underground-e-auto-produzione/
[:]