COSMOGRAFIE (italian edition)
by Tommi Musturi 128 pag, 2 colors, perfect binding, 21×28
Ist edition october 2018
ISBN 978-88-94-35600-7
(c) Tommi Musturi
(cc) italian edition – ed Fortepressa – La Bagarre Ass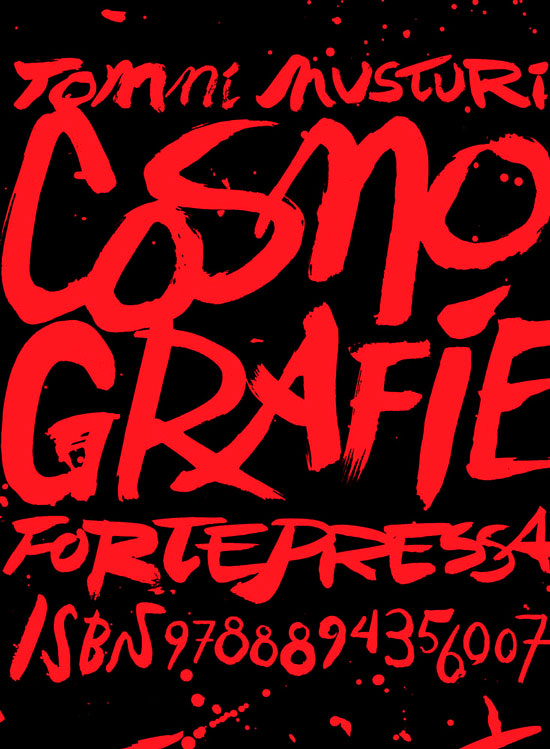 cover: Tommi Musturi
translation: Irene Sorrentino
design: Tommi Musturi
"The artist must constantly change. Your work must reflect life. Life is the stream of different matters and feelings with calm and storm – sorrow is often the prerequisite to happiness, hate is born out of fear, sound is louder after silence, explosions are more powerful when they break the steady course of everyday life. The most adaptive species survive in the nature. In the sphere of biodiversity it's impossible to imagine any species that would remain the same forever. The brain of a digital native born in the 2000's is already developing into a completely new direction. Stability is not typical to nature. The human race is not conscious of its fight for survival, but that is precisely what it is constantly going through. Capitalism aims to simplify things in order to control them easier. Biodiversity is simplified with intensive production processes and gene manipulation. The plan is crumbling, however. Right now weeds are strengthening and nutrient levels in certain fields are dropping below the requirements of wanted corns. Similarly marginal art may rise from misery to domination. This requires tireless work and watching for opportunity".
Words taken from the text that closes Cosmografie, the collection of short stories drawn in the most different styles by Tommi Musturi.
Tommi Musturi
Tommi Musturi lives in Tampere. He is the editor of the quarterly magazine Kuti and of the annual anthology Glomp, winner of the alternative comic prize at the Angoulême festival in 2005. He has published a lot of comics and books not just in his country, but also in Portugal, Germany, France, Belgium, Sweden and North America. In 2012, on the occasion of the 20th anniversary of the Comics festival, he was given a major retrospective in Lucerne and, in the same year, he took part in the collective Eye Balling, in the Kiasma museum in Helsinki. He continually experiments with new styles in different artistic genres and he is constantly reinventing himself, occupying a prominent place in the aesthetics of an entire generation of Finnish authors.
Cosmografie is the first book that he publishes in Italy.
How to get the book
To receive Cosmografie (italian edition) by post, you can e-mail fortepressa@gmail.com giving all the infos required for the shipment. Everything in Fortepressa's production has no price: it is rather a donation to our Association: the choice to donate is a concrete contribution to our work, an important part of our process.





Donation is voluntary and open, we suggest a minimum of 23€ (18€ plus 4,90€ shipping for Italian destinations) and a maximum of 35€.