E POI GLI SPARANO (AND THEN THEY SHOOT'EM)
by BAMBI KRAMER 28 pag, 4 colors with a book jacket in 2 col, stapled, 13,5×20,5 italian /english
Ist edition october 2018
ISBN 978-88-94-35608-3
(cc) Bambi Kramer
(cc) ed Fortepressa – La Bagarre Ass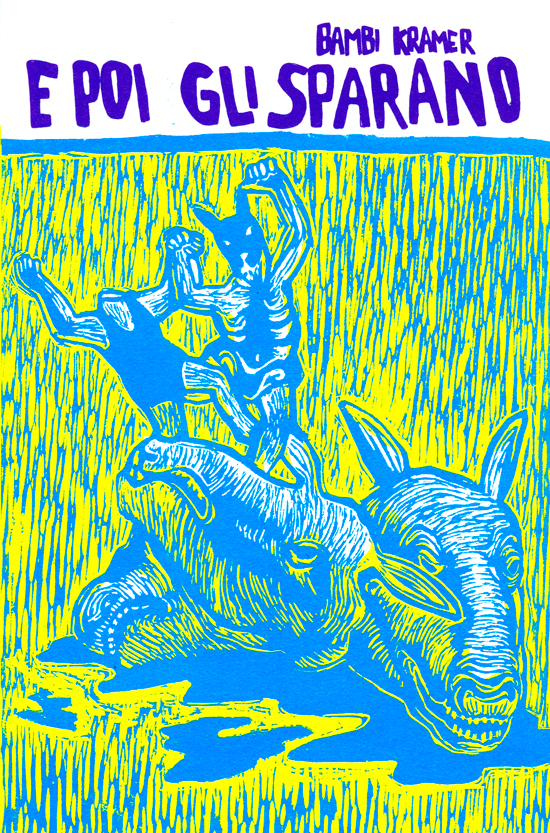 cover: Bambi Kramer
design: Kramer&Bindi
This book comes from a story produced in Rome, during a comics marathon curated by Luca Raffaelli, creating 24 pages in 24 hours. A dream-like chronicle but also a reflection on the hours of life, on the work spaces. This book is a determined, radical escape between colors.
A limited series of linoprints of the book cover, is available for you to get with the book, two subject in A3+ size and one in A4+ size.
How to get the book
To receive E poi gli sparano by post, you can e-mail fortepressa@gmail.com giving all the infos required for the shipment. Everything in Fortepressa's production has no price: it is rather a donation to our Association: the choice to donate is a concrete contribution to our work, an important part of our process.





Donation is voluntary and open, we suggest a minimum of 10€ (5€ plus 4,90€ shipping for Italian destinations), and for the prints a donation of 12€ or 18€ each, depending on the size. Any greater donation will be welcome!


E POI GLI SPARANO
di BAMBI KRAMER 28 pag, 4 colori con sovracopertina a 2 col, spillato, 13,5×20,5, italiano/inglese
I edizione ottobre 2018
ISBN 978-88-94-35608-3
(cc) Bambi Kramer
(cc) ed Fortepressa – La Bagarre Ass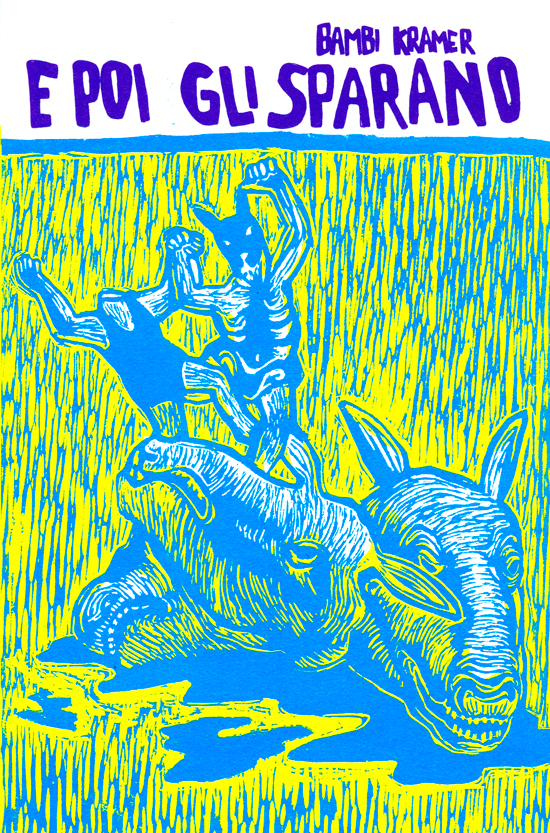 cover: Bambi Kramer
design: Kramer&Bindi
Questo libro nasce da una storia prodotta a Roma, nel corso di una maratona di fumetto curata da Luca Raffaelli, realizzando 24 pagine in 24 ore. Una cronaca onirica ma anche una riflessione sulle ore di vita sugli spazi di lavoro. Questo libro è una fuga tra i colori determinata, radicale.
Una serie limitata di stampe da linografia dei soggetti della copertina è a disposizione assieme al libro, due soggetti in A3+ e un soggetto in A4+.
Come ottenere il libro
per ricevere E poi gli sparano via posta puoi scrivere una mail a fortepressa@gmail.com con tutte le indicazioni utili a spedirtelo. Il prezzo come tutte le produzioni Fortepressa è assente. Si consiglia piuttosto una donazione alla nostra Associazione: la scelta di donare è un concreto contributo al nostro lavoro, una partecipazione importante al nostro percorso.





La donazione è libera, ma ti consigliamo una donazione minima di 10€ (5€ per il libro + 4,90€ di sped. postale per spedizioni in Italia) e per le stampe una donazione di 12€ o 18€ ciascuna. Donazioni maggiori saranno benvenute!