E POI GLI SPARANO (AND THEN THEY SHOOT'EM)
by BAMBI KRAMER 28 pag, 4 colors with a book jacket in 2 col, stapled, 13,5×20,5 italian /english
Ist edition october 2018
ISBN 978-88-94-35608-3
(cc) Bambi Kramer
(cc) ed Fortepressa – La Bagarre Ass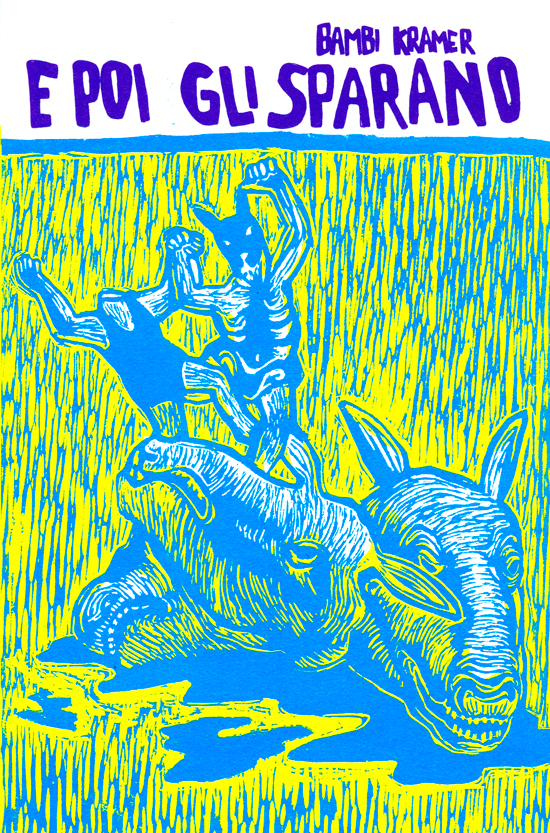 cover: Bambi Kramer
design: Kramer&Bindi
This book comes from a story produced in Rome, during a comics marathon curated by Luca Raffaelli, creating 24 pages in 24 hours. A dream-like chronicle but also a reflection on the hours of life, on the work spaces. This book is a determined, radical escape between colors.
A limited series of linoprints of the book cover, is available for you to get with the book, two subject in A3+ size and one in A4+ size.
How to get the book
To receive E poi gli sparano by post, you can e-mail fortepressa@gmail.com giving all the infos required for the shipment. Everything in Fortepressa's production has no price: it is rather a donation to our Association: the choice to donate is a concrete contribution to our work, an important part of our process.





Donation is voluntary and open, we suggest a minimum of 10€ (5€ plus 4,90€ shipping for Italian destinations), and for the prints a donation of 12€ or 18€ each, depending on the size. Any greater donation will be welcome!