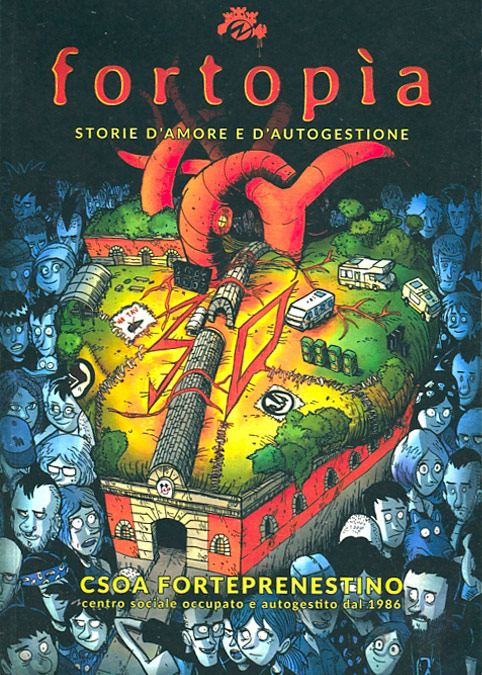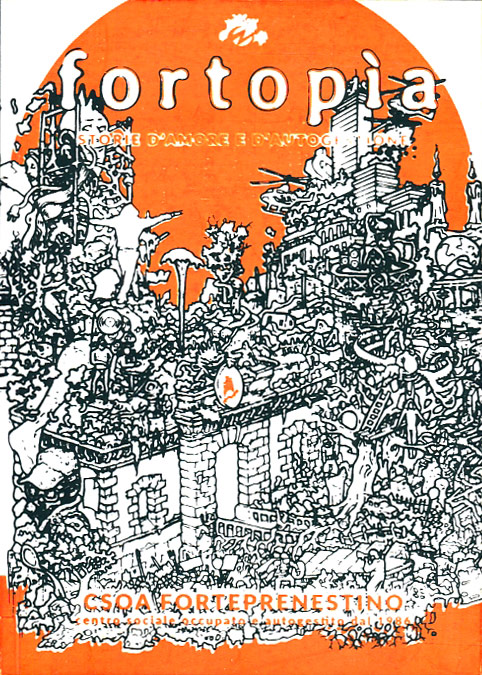 Fortopìa – Storie d'amore e d'autogestione
440 pages, 4 colours, 17x24
first edition (May, 1st 2016): 1600 copies
second run (June, 23 2016): 1500 copies plus variant edition 500 copies with silkscreen cover printed by 0stile, silkscreen lab of C.S.O.A. Forte Prenestino.
ISBN 978-88-900010-8-6
produced by C.S.O.A. Forte Prenestino
Ed. Fortepressa – La Bagarre Ass, CC BY-SA 3.0 IT
cover CYMK: drawing and color project Zerocalcare / colors:Enrico D'Elia
cover silkscreen:Infidel
design: Valerio Bindi
Il 1° maggio 2016 il Forte compie 30 anni.
30 anni di occupazione ed autogestione, 30 anni di azione collettiva, di progetti, di laboratori. di iniziative, disocialità, ricerca, cultura, resistenza. Chi quel giorno ruppe la catena non avrebbe mai immaginato che questa storia sarebbe durata così a lungo.
Questo libro è importante per il processo con cui si è generato: una scrittura collettiva che racconta una storia collettiva. Tante prospettive che illuminano un unico grande cuore pulsante. "Fortopia - Storie d'amore e autogestione" non è un punto di arrivo ma il gradino da cui ripartire per continuare a costruire insieme mille mondi possibili perché la Fortopia è un'eterotopia. Un luogo che una volta passato il ponte e superato il cancello è reale, presente e pulsante, con le sue regole che sono vere qui e non altrove. Un luogo dove il possibile si espande nel potenziale senza allontanarsi dal reale, divenendo concreto e praticabile.
Questo libro è autoprodotto perché nulla di quello che abbiamo fatto viene fuori da altro che non siano i nostri desideri e le nostre fatiche, e dal sostegno e dalla complicità delle migliaia di persone che ci attraversano.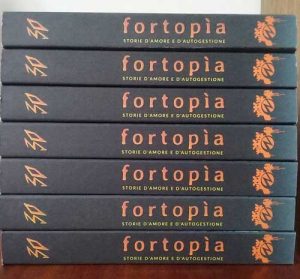 Come ottenere il libro
Per ricevere FORTOPIA via posta puoi scrivere una mail a fortepressa@gmail.com con tutte le indicazioni utili a spedirtelo. Il prezzo come tutte le produzioni Fortepressa è assente. Si consiglia piuttosto una donazione alla nostra Associazione: la scelta di donare è un concreto contributo al nostro lavoro, una partecipazione importante al nostro percorso.
How to get it
To receive FORTOPIA by post, you can e-mail fortepressa@gmail.com giving all the infos required for the shipment. Everything in Fortepressa's production has no price. It is rather a donation to our Association: the choice to donate is a concrete contribution to our work, an important part of our process.

La donazione è libera, ma ti consigliamo una donazione minima di 30€ (25€ per il libro + 4,90€ di sped. postale per spedizioni in Italia) e una massima di 45€ (la tiratura è quasi esaurita). Se scegli l'edizione con la copertina in serigrafia, di cui abbiamo le ultimissime copie, decidi una donazione più generosa.
Donation is voluntary and open, we suggest a minimum of 30€ (25€ plus 4,90€ shipping for Italian destinations) and a maximum of 45€ (copies are running out!). If you choose the silkscreen cover, there are jus really a few copies in the archive, please choose a more generous donation.