La Caïda e Coyota
by Juliette Bensimon Marchina 196 pag, 2 colors, perfect binding sewn without spine, 16,5×24
Ist edition june 2017
ISBN 978-88-90-00103-1
(cc) italian edition ed Fortepressa – La Bagarre Ass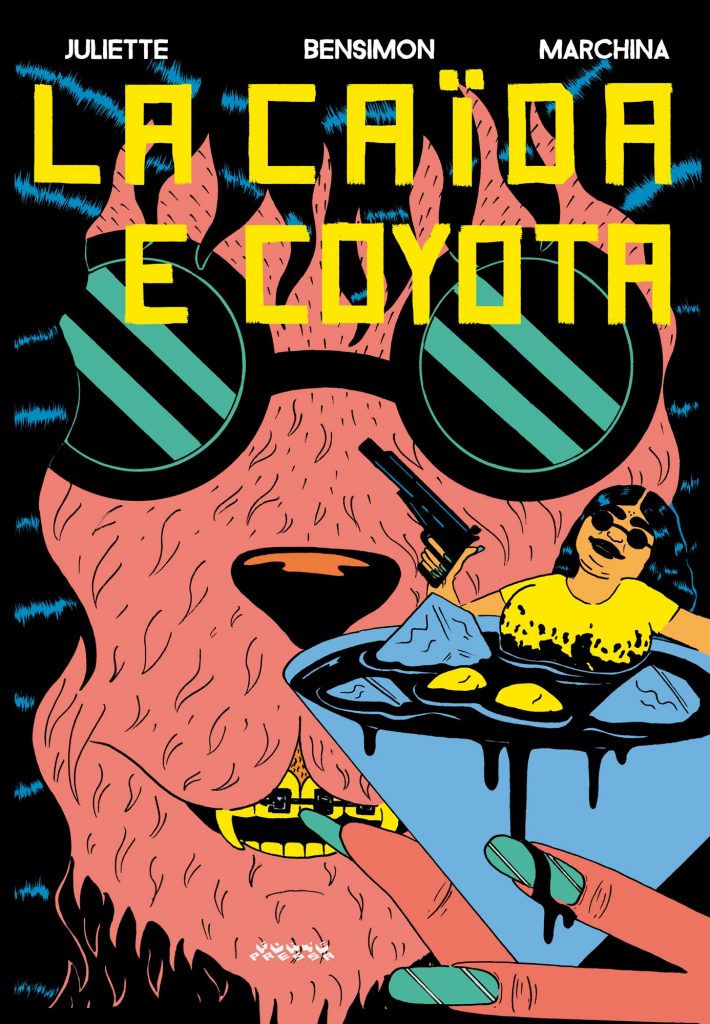 cover: Juliette Bensimon Marchina
dwg: Juliette Bensimon Marchina
translation: Jamie Richards
design: Valerio Bindi
This book has been originally published by Les Requins Marteaux and granted to Fortepressa exclusively for CRACK edition 2017! We are in Los Angeles, in the Latin Quarter of Boyle Heights. Here is a teenage girl, shy and insecure, who lives with the alcoholic mother, she faces daily a highly unstable sickness: narcolepsy. Everyone calls her La Caïda, neologism with a double meaning: indicates a person who falls often, but also a leader, a leading figure. And while La Caïda lives as an outcast Hispanic teenager not able to live in the same world of her American mates, across the border, in Juarez's city, a vigilante challenges the cartel following the traces of hundreds of girls kidnapped, raped and killed: she is Coyota who redeems the violence suffered by Mexican women, facing adventurous clashes with the worst criminals. Half woman and half coyote, she is sexy and ruthless with her enemies.
Juliette Bensimon-Marchina
Juliette Bensimon Marchina is a cartoonist who studied art in Bordeaux, lived between Paris and New York. Dramatic chronicles take on an important place in his works and often violence and humor mix with the absurd. For the magazine Crimes et Châtiments he illustrated an article on the New York gangs and another about Nick Venturi, a godfather of Marsillian. Her travels to Mexico when he lived in New York were at the origin of his first comic – La Caïda et Coyota (Les Requins Marteaux, 2015) – inspired by some mysterious disappearances of women who afflict the city of Ciudad Juarez since 1993. Weegee, Tobe Hooper, Charles Burns, Brothers Hernandez up to Munoz et Sampayo have great space in her personal pantheon. In her scripts we also find influences of popular pulp and folk magazines such as the Mexican Libraries (sensacionales) where they blend eroticism, adventure and love.
She is currently working at the S Grand Atelier for a new book. https://www.flickr.com/photos/87970384@N05/
How to get the book
To receive La Caïda and Coyota by post, you can e-mail fortepressa@gmail.com giving all the infos required for the shipment. Everything in Fortepressa's production has no price: it is rather a donation to our Association:: the choice to donate is a concrete contribution to our work, an important part of our process.





Donation is voluntary and open, we suggest a minimum of 15€ (10€ plus 4,90€ shipping for Italian destinations) and a maximum of 25€.