MIGRAZIONI///MIGRATIONS
by AAVV 54 pag, 4 colors, unbinded, 21×29,7
Ist edition june 2019
ISBN 978-88-94-35607-6
(cc) 2019 Fortepressa – La Bagarre Ass
(c) 2017 LAB619, (c) 2017 Maya Mihindou, (c) 2019 Yvan Alagbè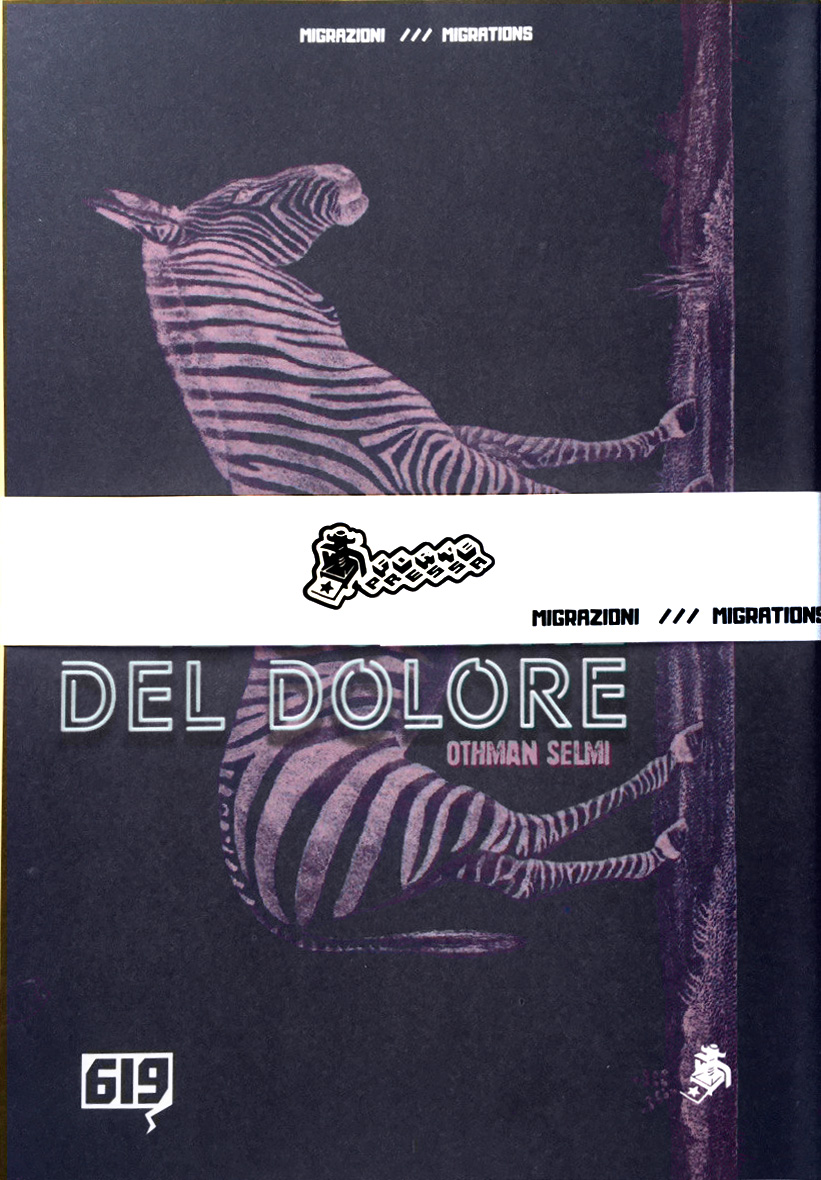 cover: Othman Selmi
translation: Luce Lacquaniti
authors: LAB619 section include Othman Selmi, Barrack Rima, Nadia Dhab, Nidhal Ghariani; other works by Maya Mihindou, Yvan Alagbè, Bambi Kramer, Sandra Ghosn, Zahraa Kareem design: Bambi Kramer, Valerio Bindi
The original project of a special issue of LAB619, Tunisian independent magazine, is an initiative of the Rosa Luxemburg Foundation in Tunis to narrate emigration starting from direct testimonies and personal stories, collected in the field. What emerged was an original vision on the refugee crisis and an investigation into the role of a host country that adopts towards migrants on the Tunisian territory, the same practices that elsewhere are reserved to its population once you cross borders. This Italian/English publication collects three stories from the original project by Othman Selmi, Barrack Rima, Nadia Dhab and Nidhal Ghariani; we have added other two stories by Maya Mihindou and Yvan Alagbè, plus six posters by Othman Selmi, Bambi Kramer, Sandra Ghosn, Zahraa Kareem.
LAB619
Lab619 is an open, independent and self-managed collective that deals with experimental comics. Starting from March 2013 he publishes his works in a self-produced comic magazine addressed, first case in Tunisia, to an adult audience. Lab indicates the experimental value and 619 refers to the bar code that characterizes Tunisian products. Lab619 aims to bring cartoonists together, train them and offer them a dissemination platform. It is open to authors of every style and nationality as well as to collaborations with similar experiences in the Arab world.
How to get the book
To receive Migrazioni///Migrations by post, you can e-mail fortepressa@gmail.com giving all the infos required for the shipment. Everything in Fortepressa's production has no price: it is rather a donation to our Association: the choice to donate is a concrete contribution to our work, an important part of our process.





Donation is voluntary and open, we suggest a minimum of 19€ (14€ plus 4,90€ shipping for Italian destinations) and a maximum of 25€.