by BAMBI KRAMER 28 pages, 4 colours + 1 pantone, unbound poster-book hard sleeve, 33 x 44 cm
released under Creative Commons License [ CC BY – NC – SA 3.0] first release november 2014
ISBN 978-88-9050-697-0
signed limited edition of 350 copies published by FortePressa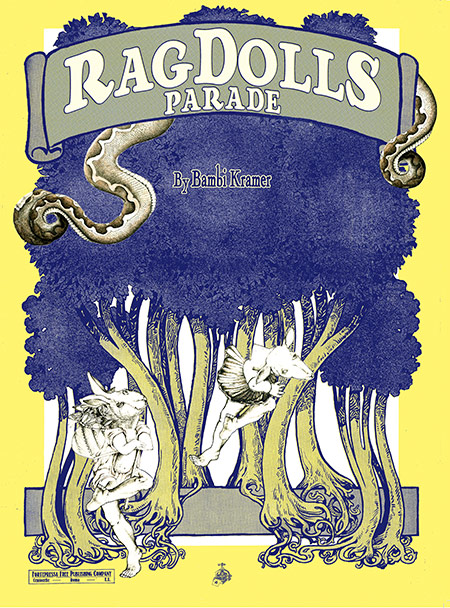 cover: Bambi Kramer
dwg: Bambi Kramer
music sheets: F. Henry Klickmann, Geo W. Fairman, Tell Taylor
design: Valerio Bindi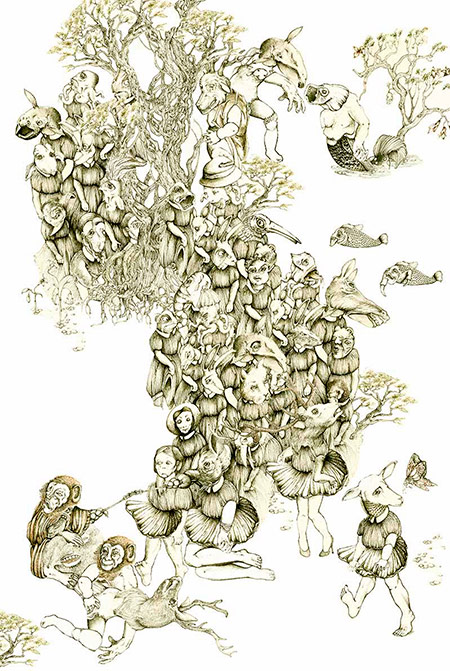 RAGDOLLS are multimaterial creatures made with scraps, fragments that can divide, rotate and assemble again simulating living movement. Then there is an island, a love story and an evil Plague Doctor trying to collect all the multiplicity that those mixed-up forms of life can bring in a striped, jail-like establishing. Original music sheets from the early 1900's moves this little chimeras' parade at the Rag time. RAGDOLLS PARADE is a book that comes out at the end of a process which lasted more than a year, starting in Colombia with a theater performance, and then a six meters drawn roll that illustrates it. From the flowing continuity of a roll, eyes, arms, legs and bodies are extracted and isolated by a new Victor Frankenstein. Reproducing and combining them, hidden creatures, movements and stories are revealed. The whole work develops as a big detournement and cut-up operation by moving and implanting new elements in old and "al-ready made" structures, making the book as a ragdoll itself, pages and images dancing at their own music.
How to get the book
To receive Ragdolls Parade by post, you can e-mail fortepressa@gmail.com giving all the infos required for the shipment. Everything in Fortepressa's production has no price: it is rather a donation to our Association: the choice to donate is a concrete contribution to our work, an important part of our process.


di BAMBI KRAMER 28 pagine, 4 colori + 1 pantone, libro poster nn rilegato inserito in custodia rigida, 33 x 44 cm
rilasciato con Licenza Creative Commons [ CC BY – NC – SA 3.0] I edizione novembre 2014
ISBN 978-88-9050-697-0
edizione firmata e limitata di 350 copie pubblicata da FortePressa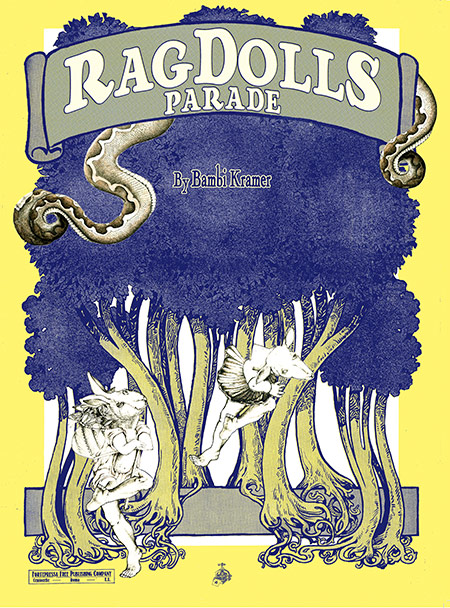 cover: Bambi Kramer
dwg: Bambi Kramer
music sheets: F. Henry Klickmann, Geo W. Fairman, Tell Taylor
design: Valerio Bindi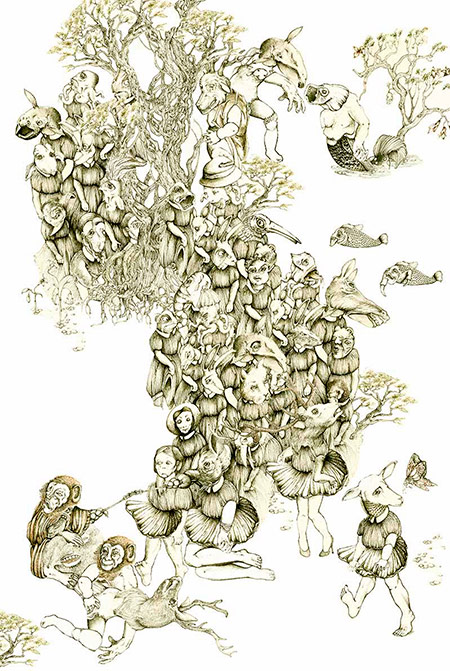 Le RAGDOLLS sono creature composite, fatte di scampoli, scarti, frammenti che sembrano muoversi mentre si scompongono, ruotano e assemblano nuovamente. C'è poi un'isola, una storia d'amore e un crudele Dottore della Peste determinato a raccogliere sotto di sè la molteplicità sfuggente di queste creature ibride, costringendole in un ordine 'striato' come una prigione. Spartiti originali d'inizio '900, accompagnano questa sfilata di chimere a tempo di Rag.
RAGDOLLS PARADE è un libro che arriva alla fine di un percorso durato più di un anno, iniziato in Colombia con una performance teatrale, e a seguire un rotolo disegnato lungo sei metri che la illustrasse. RAGDOLLS PARADE è frutto di un processo che dalla continuità fluida del rotolo estrae come un nuovo Victor Frankenstein occhi, braccia, corpi, li isola e li trasforma in elementi modulari, dalle cui riproducibilità e combinazioni nascono creature, movimenti e storie fino ad allora nascosti. Un lavoro di detournement e cut-up che sposta e inserisce elementi nuovi in strutture antiche "al-ready made", rendendo il libro stesso una ragdoll, con pagine ed immagini danzanti al suono della propria musica.
Come ottenere il libro
per ricevere Ragdolls Parade via posta puoi scrivere una mail a fortepressa@gmail.com con tutte le indicazioni utili a spedirtelo. Il prezzo come tutte le produzioni Fortepressa è assente. Si consiglia piuttosto una donazione alla nostra Associazione: la scelta di donare è un concreto contributo al nostro lavoro, una partecipazione importante al nostro percorso.






La donazione è libera, ma ti consigliamo una donazione minima di 25€ (20€ per il libro + 4,90€ di sped. postale per spedizioni in Italia) e una massima di 40€.
Donation is voluntary and open, we suggest a minimum of 25€ (20€ plus 4,90€ shipping for Italian destinations) and a maximum of 40€.