THIS LIFE
by Kollektivo Illuminoso Fresco 120 pag, 2 colors, double book stapled, 16,5×24
Ist edition june 2018
ISBN 978-88-94-35601-4
(cc) italian edition with original text – ed Fortepressa – La Bagarre Ass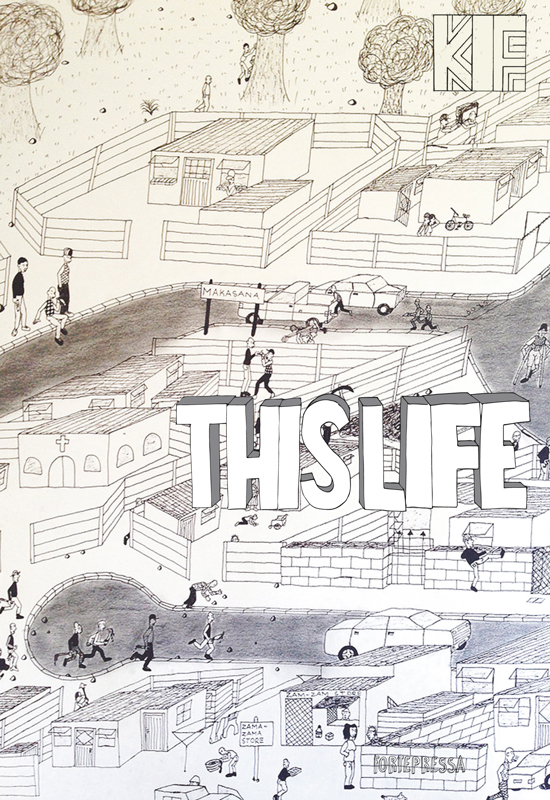 cover: Luntu Wumazonke
dwg: Athi Dan Mageza, Clinton Osbourn, Enrico Nicol, Eric Menyo, Loyiso Botha, Luntu Vumazonke, OK29, Pumezo Magoqosa, Taslin Van Niekerk, Xolisa Pezisa.
translation: Bambi Kramer
design: Valerio Bindi con Giusy Noce
This comic book was created as part of Siyakhana Project, a project run by Young in Prison South Africa. All of the artists that contributed to this book have experienced imprisonment at some point of their lives, most of them recently, and recently they have been released. After more than 20 years of so called freedom in South Africa, many young people are still struggling without access to opportunities or resources and this is contributing in their decision to resort crime, getting involved in drug addiction, gangsterism. Issues that are closely related to getting into conflict with the law. The stories in this compilation are one of the ways they get to share what they have endured as well as figure out the possibilities for the future. Most of the stories are based on personal experiences though some artists chose to create fictional stories that are representative of their social circumstances. There are similarities between many of the stories but each one is unique and created with a distinctive style by each participant.
I hope that everyone who reads these stories is able to feel their power.
Clinton Osbourn
Siyakhana Project Co-ordinator
Kollektivo Illuminoso Fresco (KIF) Co-Founder
Kollektivo Illuminoso Fresco
We are Kollektivo Illuminoso Fresco/We are a collective of artists./We want to make money./Though art is priceless/we do art to free our hearts and heal our scars/we work for ourselves/We are fucking professionals/Telling stories that are in our heads/in order for other people to see the stories that are happening in our minds/exploring some of the feelings that we hide/showing the fucked up world that we live in/There is a word in Xhosa, Inyala/Shame/Inyala liya qunywa/the shame must be hidden/We are telling the truth/to reveal that shame/We have all been in conflict with the law/we have all been locked behind bars/we have all struggled to overcome our circumstances/Processes are difficult in the beginning/Just draw different pictures/see how pictures match/sharing our past/expressing our pain/and our experiences in life/We must have these discussions over and over again/art is addressing feelings/Our art provokes/showing people a different corner of the earth/a different version of reality/showing it out/so that there is no denying it/Art is a cry of a living body/and when the body is dead/it becomes the cry of a living spirit/the spirit never dies/We express ourselves on the page or the canvas/when we die it will remind them of us/a crying spirit for what is happening around us/because its a mess out there/and we reveal this mess in many ways/So when we are doing art we are counting our blessings/Salute
K.I.F. is a collective based in Cape Town, South Africa.
How to get the book
To receive This Life by post, you can e-mail fortepressa@gmail.com giving all the infos required for the shipment. Everything in Fortepressa's production has no price: it is rather a donation to our Association: the choice to donate is a concrete contribution to our work, an important part of our process.





Donation is voluntary and open, we suggest a minimum of 15€ (10€ plus 4,90€ shipping for Italian destinations) and a maximum of 20€.